Long Beach Cliff May Ranchos
Cliff May homes are unique in their relationship to the outdoors. They are 50years ahead of their time in the use of environmental light. They are Californian, built for individuals who want to erase the lines between indoors and outdoors and embrace the spectacular Southern California climate.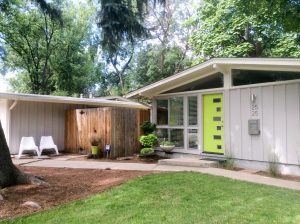 Innovative ranch home designs post and beam architecture designed makes, Cliff May  the pioneer of the California Ranch Houses with open floor plans, board and batten siding, clerestory windows, floor to ceiling glass, exposed post and bean ceilings and unique indoor-outdoor relationships and gardens.
He incorporated features of large, custom ranches into more modest and affordable ranch homes, and gave them a sense of spaciousness as well as strong connections between inside and outside living, the city of Long Beach have allowed 6' fences around the homes to ensure privacy activity since the homes are open space design. The homes are 50 years old and that makes for a historical district, some of the homes are on tour offered by the Long Beach Heritage (http://www.lbheritage.org/) I have had the privilege of inspecting several of these homes, some is completely restored and some are in the process of being restored to their original condition.
Fred Sweezer Sr.
Certified Home Inspector
HUD Certified 203K Consultant S712
FHA Compliance Inspector T477
Book A Home Inspection
If you'd like to book an inspection, or request more information from us on pricing and our services, please submit this form.