Foundation Plumbing Problems
Book A Home Inspection
If you'd like to book an inspection, or request more information from us on pricing and our services, please submit this form.
If you have a sewer leak or leaks under the concrete slab of your home's foundation, it's possible it could cause cracks in your walls or foundation, sloping floors, or more.
And once you find out you have a sewer leak, most likely it's been there for a significant amount of time. So it's in your best interest to take action to prevent any possible or further structural damage to your plumbing system installed in your home?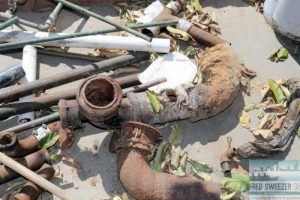 But if your system is made of cast iron the question becomes: Should you repair the leaks? Or go ahead and replace the pipes? Without the correct amount of knowledge you not arrive at the correct solution for your problem?
There are many ways to answer these questions, using a Certified Home Inspector or a State Licensed Plumber with a video sewer line Inspection.
You need an expert to advise you on how to proceed with repair or an Inspection as to the solution to your problem.
We are Certified Home Inspectors and can help you with major issues of purchasing your first home.
Fred Sweezer Sr
1-562-234-2689
Certified Master Home Inspector
HUD Certified 203K Consultant S0712